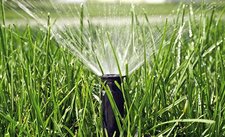 Over the last decade we have been confronted with increasingly extreme weather conditions. More than before, spring and summer periods seem to be characterised by long spells of drought or, in contrast, extreme rainfall. Nevertheless, water is essential for the germination, establishment and growth of grass. The changing weather conditions have therefore led to higher demands with respect to the characteristics of grass.
Water requirement
Due to their limited requirements for water, the products with the GreenEarth quality mark mean savings of up to 70% on water use. This means that these products make a substantial contribution to the sustainability of grass for recreational purposes. Heat and drought lead to grass requiring large amounts of water during periods when the shortage of water is actually on the increase. As the GreenEarth products consist of the right mixture of grass from a perfectly balanced combination of cultivars, less water is required and water is saved during the summer. These cultivars require substantially less water but do, of course, continue to perform and maintain at least the same quality.
Research
Through several years of independent research carried out in the extremely dry and hot summer climate of Italy, a large amount of data has been obtained relating to the drought tolerance of grass. We already knew that certain species of grass require considerably less water for optimum growth than other species. Festuca arundinacea is a species which, thanks to its strong leaf and stem structure and deep root system, scores well on drought tolerance. Landlab, the renowned Italian research institute, demonstrated that there are not only differences between grass species (between Lolium perenne and Festuca arundinacea, for example), but that there are also differences to be detected within a grass species, so between the cultivars. Selecting the right cultivar of Poa pratensis for the GreenEarth product Water Saver, for example, makes an enormous difference to water requirements. This can mean that between 40% and 70% of water is saved on summer maintenance compared to standard management, without making any concessions with regard to quality. One of the main reasons for such savings being achieved on sprinkling is the inclusion of the Barimpala cultivar in Water Saver.
Figure 1: Differences in quality for meadow grass cultivars over long periods of drought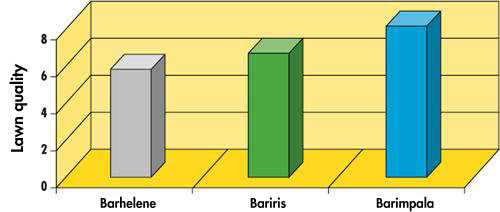 Source: Landlab 2008
The difference in lawn quality amongst Poa pratensis cultivars is significant. In figure 1, Barimpala proved itself to be the best smooth stalked (Poa pratensis) under dry circumstances. The figure below shows that Poa pratensis is indispensable for good performance with reduced water use.
Figure 2: The lawn quality of various mixtures, summer 2007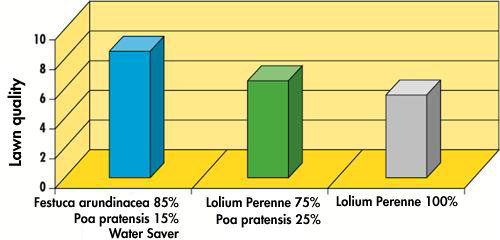 Source: Landlab 2008
It is clear that the GreenEarth grass, WaterSaver, scores highest in terms of drought tolerance. WaterSaver stays green longer and recovers more quickly following a period of drought. Rapide (Lolium perenne and Poa pratensis) perform reasonably well under dry circumstances provided that the right meadow grass is selected. 100% Lolium perenne (Speedy Green) proved to be the least sustainable in terms of water use, but again the selection of the specific drought-friendly cultivars can result in a somewhat faster recovery following drought.